Spinal tumor
Overview | Causes | Symptoms | Diagnosis | Treatment | FAQ
Overview
Spinal cord tumors are a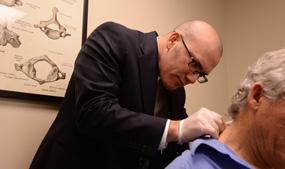 bnormal growths of tissue found inside the bony spinal column, which is one of the primary components of the central nervous system (CNS). Benign tumors are noncancerous, and malignant tumors are cancerous. The CNS is housed within rigid, bony quarters (i.e., the skull and spinal column), so any abnormal growth, whether benign or malignant, can place pressure on sensitive tissues and impair function. Tumors that originate in the brain or spinal cord are called primary tumors.
[top
Causes
Most primary tumors are caused by out-of-control growth among cells that surround and support neurons. In a small number of individuals, primary tumors may result from specific genetic disease (e.g., neurofibromatosis, tuberous sclerosis) or from exposure to radiation or cancer-causing chemicals. The cause of most primary tumors remains a mystery. They are not contagious and, at this time, not preventable.
[top]
Symptoms
Spinal cord tumor symptoms include pain, sensory changes, and motor problems. Symptoms generally develop slowly and worsen over time unless they are treated. Tumors within the spinal cord usually cause symptoms over large areas of the body, while tumors outside the spinal cord may grow for some time before causing nerve damage. Other symptoms include back pain, loss of sensation, muscle weakness, incontinence and muscle spasms.
[top]
Diagnosis
The first test to diagnose brain and spinal column tumors is a examination. Special imaging techniques (computed tomography, and magnetic resonance imaging, positron emission tomography) are also employed. Laboratory tests include the EEG and the spinal tap. A biopsy, a surgical procedure in which a sample of tissue is taken from a suspected tumor, helps doctors diagnose the type of tumor.
The tumor may be classified as benign or malignant and given a numbered score that reflects how malignant it is. This score can help doctors determine how to treat the tumor and predict the likely outcome, or prognosis, for the patient.
Outlined below are some of the diagnostic tools that your physician may use to gain insight into your condition and determine the best treatment plan for your condition.
Medical history: Conducting a detailed medical history helps the doctor better understand the possible causes of your back and neck pain which can help outline the most appropriate treatment. Physical exam: During the physical exam, your physician will try to pinpoint the source of pain. Simple tests for flexibility and muscle strength may also be conducted.
X-rays are usually the first step in diagnostic testing methods. X-rays show bones and the space between bones. They are of limited value, however, since they do not show muscles and ligaments.
MRI (magnetic resonance imaging) uses a magnetic field and radio waves to generate highly detailed pictures of the inside of your body. Since X-rays only show bones, MRIs are needed to visualize soft tissues like discs in the spine. This type of imaging is very safe and usually pain-free.
CT scan/myelogram: A CT scan is similar to an MRI in that it provides diagnostic information about the internal structures of the spine. A myelogram is used to diagnose a bulging disc, tumor, or changes in the bones surrounding the spinal cord or nerves. A local anesthetic is injected into the low back to numb the area. A lumbar puncture (spinal tap) is then performed. A dye is injected into the spinal canal to reveal where problems lie.
Electrodiagnostics: Electrical testing of the nerves and spinal cord may be performed as part of a diagnostic workup. These tests, called electromyography (EMG) or somato sensory evoked potentials (SSEP), assist your doctor in understanding how your nerves or spinal cord are affected by your condition.
Bone scan: Bone imaging is used to detect infection, malignancy, fractures and arthritis in any part of the skeleton. Bone scans are also used for finding lesions for biopsy or excision.
Discography is used to determine the internal structure of a disc. It is performed by using a local anesthetic and injecting a dye into the disc under X-ray guidance. An X-ray and CT scan are performed to view the disc composition to determine if its structure is normal or abnormal. In addition to the disc appearance, your doctor will note any pain associated with this injection. The benefit of a discogram is that it enables the physician to confirm the disc level that is causing your pain. This ensures that surgery will be more successful and reduces the risk of operating on the wrong disc.
Injections: Pain-relieving injections can relieve back pain and give the physician important information about your problem, as well as provide a bridge therapy.
[top]
Treatment
The goal when treating spinal cord tumors is to minimize nerve damage related to compression of the spinal cord. The main priority is to administer treatment as quickly as possible to prevent progression. The three most commonly used treatments are surgery, radiation, and chemotherapy. Doctors also may prescribe steroids to reduce the swelling inside the CNS.
[top]
FAQs
What are some of the symptoms of spinal cord tumors?
Numbness in the legs that is worsening
Back pain
Incontinence
Muscle spasms
Cold feeling in the legs or hands
What is the prognosis?
The earlier the spinal cord tumor is detected, the better the outlook. Without treatment, spinal tumors can lead to serious disability, paralysis and death.
[top]