Contact Us
Northwest Florida Spine
Panama City
2636 Jenks Avenue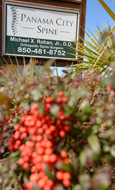 Panama City, FL 32405
United States
Phone: 850-481-8752
Fax: 850-481-8758
Destin:
42 Business Center Drive, Unit 310
Miramar Beach, FL 32550
Phone: 850-481-8752
Fax: 850-481-8758
Port St. Joe Satellite office
206 West Highway 98
Port St. Joe, FL 32456
Phone: 850-481-8752
Fax: 850-481-8758
OPEN: Every other Monday
We are open from 8:30 am until 5 pm, Monday through Thursday and 8:30am to 12:00pm Friday. After hours, our office phone is answered by an answering service that will take messages that we can respond to on the following business day.
We do not refill prescriptions after hours or on the weekend. It is your responsibility to ensure that you have an adequate supply of medication, and if you do not, you will only be able to discuss a refill during regular working hours.
---
Understanding quality in spine care
It's important for the patient to understand that your choice of spine physician will determine the quality of healthcare you will receive. There have been many advances in the field of spine care over the past 10 years. But that does not mean every spine physician is using the most advanced approach. That's because it takes a great commitment of time and training for a surgeon to learn to operate through instruments the width of a ballpoint pen and a one-inch incision.  It's much easier for a surgeon to simply make a three-inch open incision. But there is great benefit for the patient to have a one-inch incision. There is less blood loss and no need for donated blood. Because the incision is shorter, there is less disruption to muscles and ligaments so your recovery is much faster and less painful. 
Dr. Michael Rohan, Jr. is fellowship-trained in spine surgery, the highest level of medical education in the U.S.  His fellowship was done at the prestigious Texas Back Institute, which in 1986 was the first and largest spine specialty center in the United States.  During his fellowship, Dr. Rohan, Jr. specialized in minimally invasive spine surgery techniques that require the surgeon to operate through a one-inch incision using tubular retractors with tiny cameras and cutting devices in the tip. Dr. Rohan, Jr. founded Northwest Florida Spine 10 years ago, as one of the first spine surgeons to bring these new minimally invasive spine surgery and artificial disc replacement techniques to the Panama City region as a long-overdue alternative to traditional 3-inch long incisions that were common in the region. Consequently, Northwest Florida Spine over the years attracted hundreds of patients and referrals from across the Northwest Florida Panhandle region, from Mobile, Alabama; Fort Walton Beach; Pensacola; Destin; Miramar and to the east Tallahassee and Dothan, Georgia to the north. Responding to its regional reputation in spine care, in early 2018, the spine center transitioned its name from Northwest Florida Spine to Northwest Florida Spine which reflects the regional draw of patients. Currently, the spine specialty center is referred back and neck pain patients from across the Gulf Coast who can are looking for the most advanced minimally invasive spine surgery, motion preservation and artificial disc replacement surgery. We recognize that those with back pain or neck pain often struggle to find a back doctor or spine center that can provide a second opinion for spine surgery and offer nonsurgical treatment for back pain, neck pain, scoliosis (curvature of the spine) and pain symptoms related to a herniated disc. We provide this content-rich informative Internet presence to help the person wth back pain gain a better understanding for the most advanced treatment alternatives for a herniated disc and other complex spine problems.